Report
TerrapinSTRONG Annual Report 2021-2022
Vision
The University of Maryland strives to create an inclusive environment where every member of our community feels that they belong and are empowered to reach their full potential.
Mission
TerrapinSTRONG introduces and infuses its vision of inclusion and our institutional values across the university to create a more cohesive identity and a stronger commitment to community, connection and inclusion.
Priorities
TerrapinSTRONG was built upon four pillars of responsibility for the University of Maryland. Through the inaugural year, we discovered that TerrapinSTRONG required a clearer and more concise summary that resonated with students, faculty, and staff. We wanted the foundation of TerrapinSTRONG to be easy and memorable.
As a result, we have reorganized those initial four tenets to represent the responsibilities of the University of Maryland as an institution. We have added the three priorities of Community, Connection, and Inclusion as the foundational concepts we hope participants will remember and embody after having participated in TerrapinSTRONG.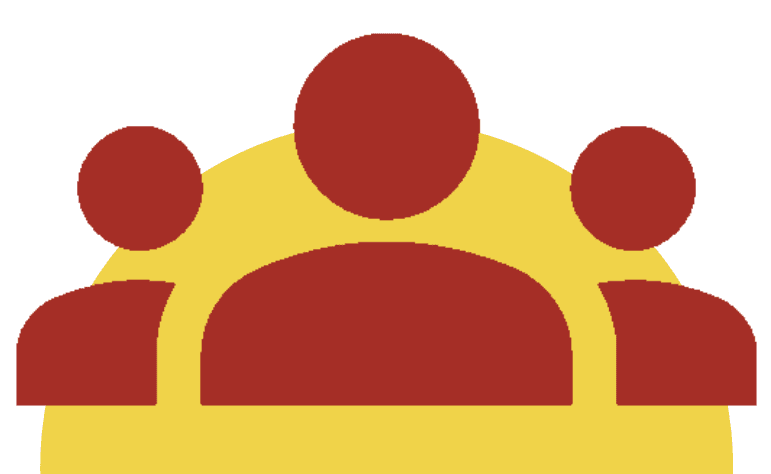 Community
TerrapinSTRONG creates a sense of belonging and an expectation of personal responsibility among UMD community members. It acknowledges the exclusionary issues in our shared community history, communicates our values, indicates the importance of taking care of our community and emphasizes the role every person plays in the success of this place.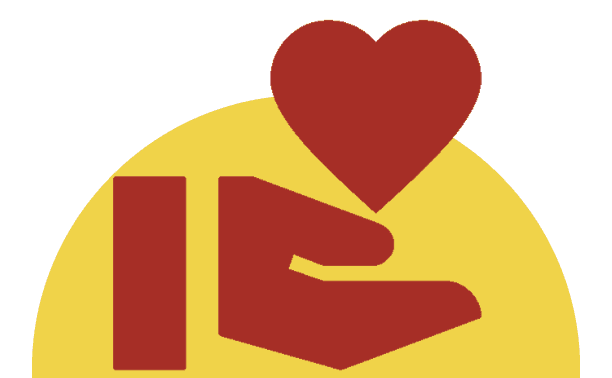 Connection
TerrapinSTRONG connects people to history, place, and people. TerrapinSTRONG helps members of the UMD community build relationships, find support systems and understand how their work connects to the wider vision of inclusion. It provides opportunities for engagement with ourselves, with each other and with our institution.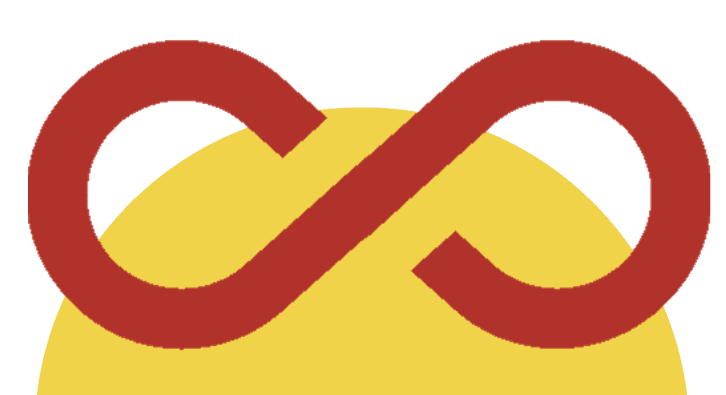 Inclusion
TerrapinSTRONG emphasizes the importance of an environment where everyone can reach their full potential. It represents the diversity of our campus community in the past, present, and future, provides resources for support of diverse people, and encourages practices that serve everyone. TerrapinSTRONG brings marginalized voices to the table and clearly communicates our commitment to be a welcoming and safe place.
TerrapinSTRONG & Fearlessly Forward
TerrapinSTRONG has a direct role in furthering the university's new Strategic Plan. TerrapinSTRONG aligns with the Relevant Guiding Principles. It provides a platform to introduce efforts related to Pillars 1 and 2, and it is central to Pillar 3: We invest in people and communities, especially Goal 1.

Goal 1: lead the nation in living a commitment to equity, diversity, and inclusion in all that we do.
A Developmental Year
The University of Maryland officially rolled out the TerrapinSTRONG onboarding program in the summer of 2021. Beginning July 1, 2021, all new faculty, staff and students to the University of Maryland were expected to complete the TerrapinSTRONG campuswide onboarding course.
In August 2021, TerrapinSTRONG became an entity unto itself with dedicated staff.
In fall 2021, all colleges and schools piloted unit-level TerrapinSTRONG onboarding programs for their undergraduate students.
In September 2021, TerrapinSTRONG offered its first in-person version of the TerrapinSTRONG campuwide onboarding course for staff members without computer work stations. In January, 2022 TerrapinSTRONG began offering in-person courses in Spanish and Haitian Creole as well.
In spring semester 2022, all current faculty and staff at the University of Maryland were required to participate in the course in order to establish campuswide awareness and implementation of the messages of TerrapinSTRONG.
TerrapinSTRONG Representatives now submit pre- and post-initiative reports to the TerrapinSTRONG Program Manager for data and resource collection. In addition we have built an extensive, access-restricted resource website for representatives to learn about the program and each others' initiatives, as well as a large activity resource bank for DEIJB programming.
TerrapinSTRONG Staffing
President Darryll Pines assembled a team of staff and faculty from across campus to create the initial foundation for TerrapinSTRONG. In August 2021 a full-time Program Manager, Leslie Krafft, was assigned to TerrapinSTRONG and housed under the Office of Diversity and Inclusion.
TerrapinSTRONG hired its first graduate assistant, Ushna Saeed, to begin in August 2022.
TerrapinSTRONG contracted with part-time contract UMD employee Mirousse Pierre Louis (UMShuttle driver) to facilitate Spanish & Haitian Creole versions of the course in person.
Every College/School/Division has at least one TerrapinSTRONG representative responsible for the initiatives in that unit.
TerrapinSTRONG Across Campus





Other initiatives from academic year 2021-2022 include:
identity exploration workshops
ally training
workshops for students from marginalized identities
relationship-building events
TerrapinSTRONG messaging integrated into existing programs
Learn more about specific unit initiatives with the following links:
New Partnerships
Despite the challenges of starting a new program for the entire campus community, TerrapinSTRONG was able to build partnerships with multiple entities to spread the messages of TerrapinSTRONG in its first year. We hope the next academic year will deepen these partnerships to harness more of the potential.
New Student Orientation, New Employee Orientation, and New Faculty Orientation now contain standalone sessions on TerrapinSTRONG.
TerrapinSTRONG was added to the You Belong brochure for admitted students.
TerrapinSTRONG is integrated into the work of the university's new strategic plan. TerrapinSTRONG is represented on the committee for "We Invest in People & Communities" and is a part of the implementation planning for the Diversity Education Taskforce Recommendations.
TerrapinSTRONG is working with the Alumni Association to develop TerrapinSTRONG training/communication for alumni, especially the Alumni Association Board members. TerrapinSTRONG was also featured in Terp Magazine.
Some of the largest living-learning programs - College Park Scholars, Honors College, and the Carillon Communities - are building TerrapinSTRONG components into their programs.
Other blossoming partnerships include
Fall Welcome - affinity welcomes & President's Welcome
Student Affairs Diversity Initiative (SADI) - affinity groups
Maryland Communicators Group - dedicated webpages for each unit's TerrapinSTRONG initiatives
Maryland Student Affairs Conference - design thinking strategies for inclusion
PTK Symposium - design thinking strategies for inclusion
Enrollment Management - would like externally-focused TerrapinSTRONG video content
TerrapinSTRONG by the Numbers
In academic year 2021-2022, we onboarded the entire campus community with TerrapinSTRONG. In addition to all new students, faculty, and staff being asked to complete the course, current faculty and staff also participated.
22990
total enrollments
19754
total course completions
74
% of full-time employees who have completed the training
10961
undergrads completed
1969
graduate students completed
5676
staff completed
2148
faculty completed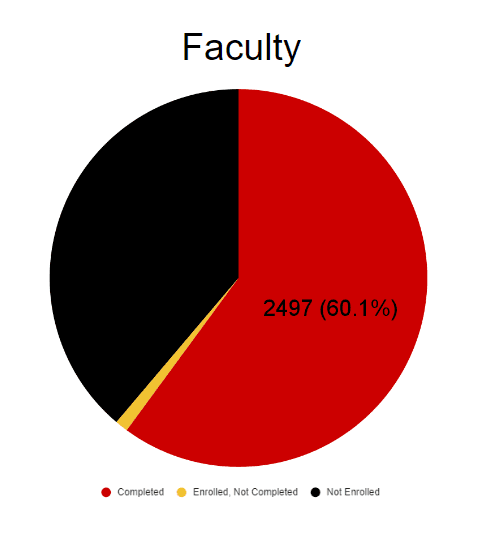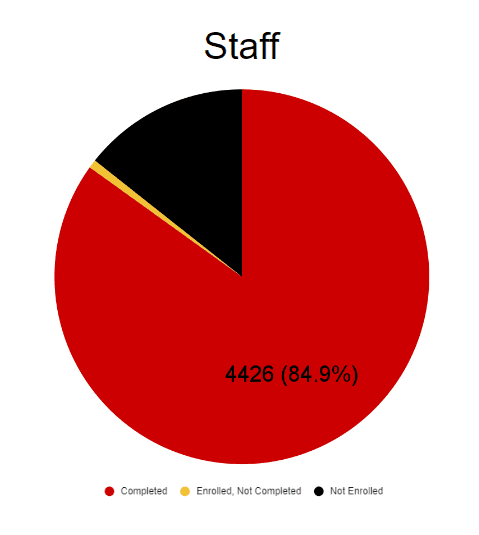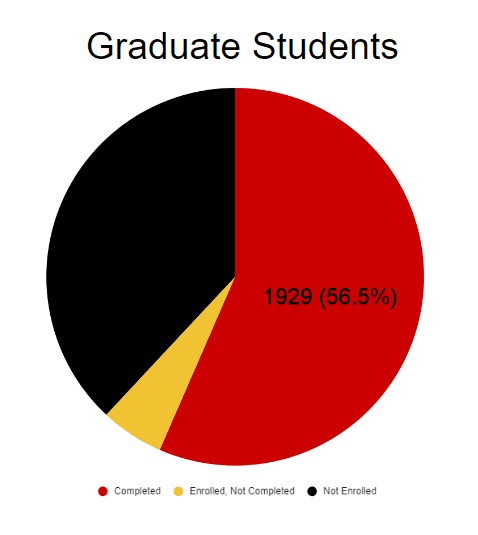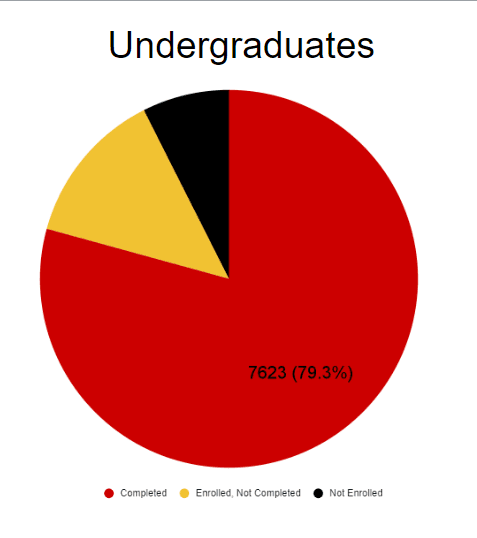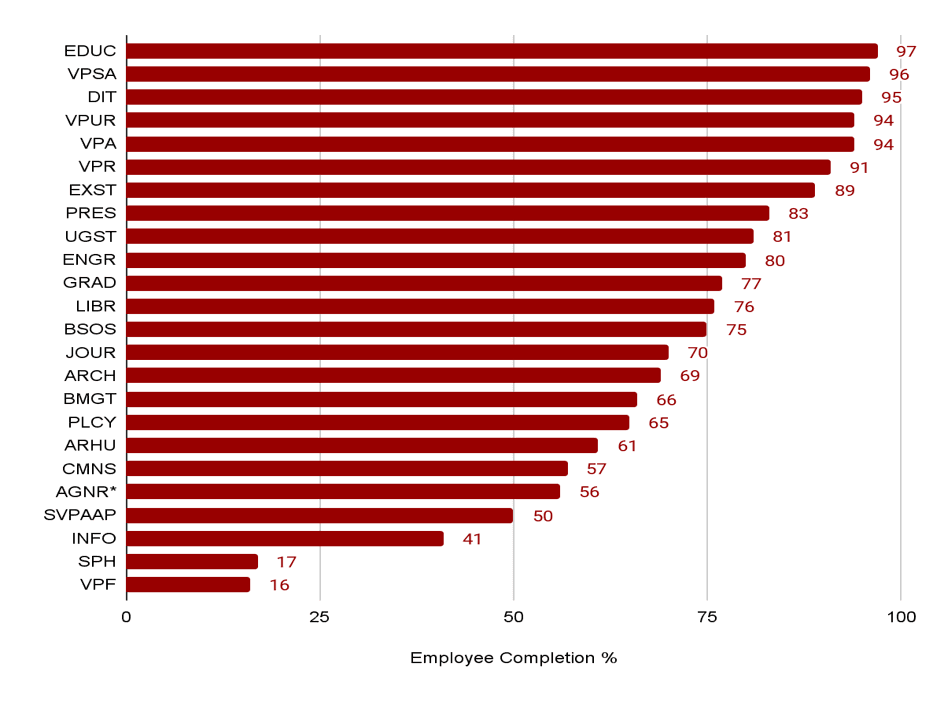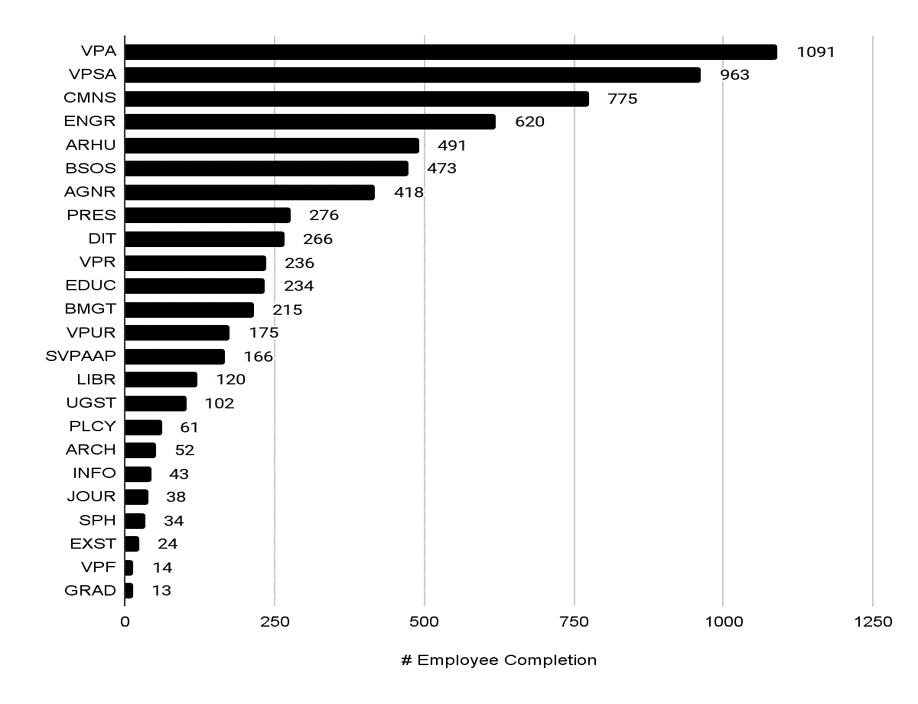 After participating in TerrapinSTRONG onboarding, how excited do you feel about coming to the University of Maryland?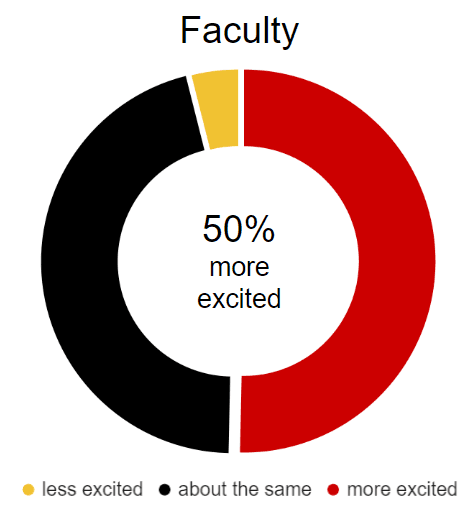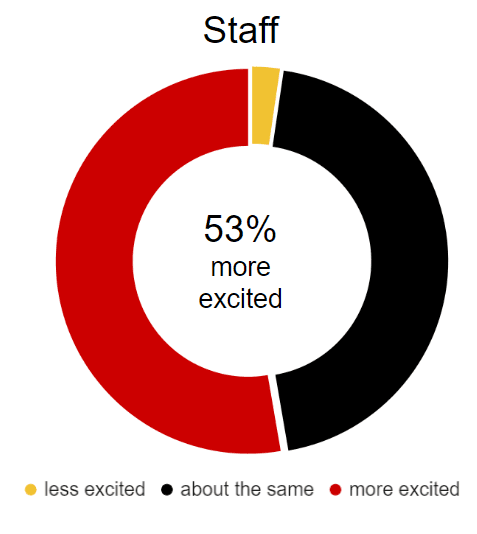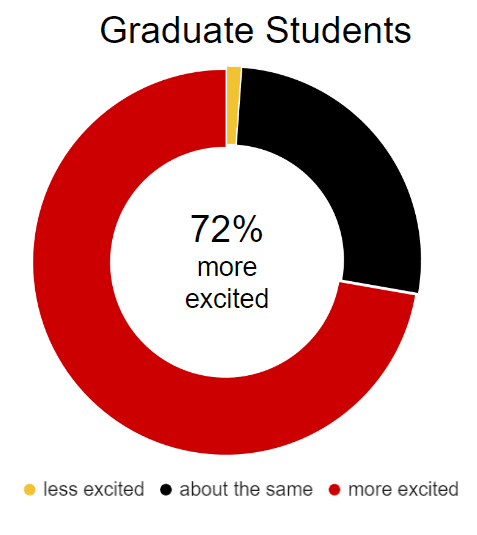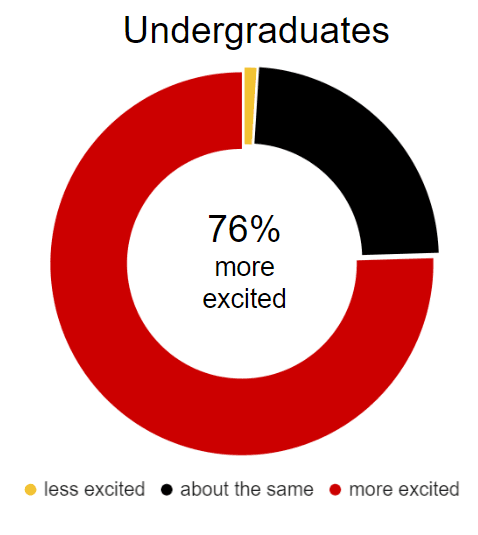 TerrapinSTRONG In Person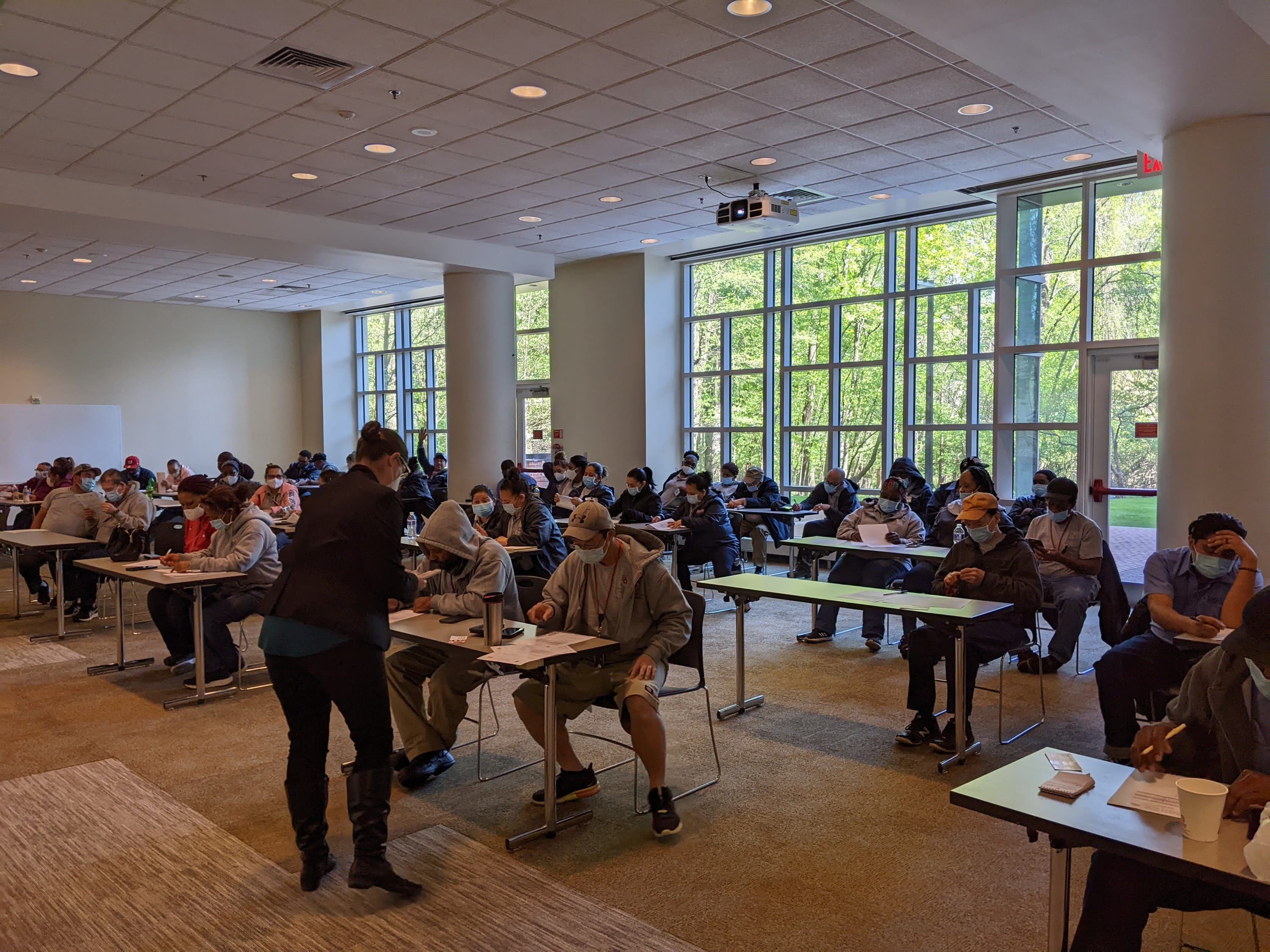 In 2021-2022 we began offering TerrapinSTRONG in person for staff without computers. Courses were offered in English, Spanish, and Haitian Creole, the 3 most commonly spoken languages among employees without computer work stations.
844
people trained in person
32
general and AGNR in person sessions
Looking Ahead
Enhancements to Campuswide Course
TerrapinSTRONG will make content updates and adjustments annually and roll out the updated versions of the courses each spring semester for the incoming cohorts of the coming summer/fall. TerrapinSTRONG evaluated the data collected in the feedback survey, as well as conducting interviews with people from specific groups for more in-depth feedback (undergraduate students, African American Studies faculty member, LGBTQ+ Equity Center director, ADA Coordinator, HR staff for those without computer workstations, etc.). Based on the feedback, the following enhancements were made to the course for the incoming students, faculty and staff of 2022-2023:
University shared values and the tenets of TerrapinSTRONG have been rewritten using plain language principles for the most efficient, clear, and applicable communication of the messages

Community, Connection, and Inclusion are defined as the priorities of TerrapinSTRONG

We added resources for incidents of bias & discrimination

We added a Gallery of Trailblazers, highlighting alumni and faculty/staff members from diverse groups who have done great work to enhance equity & inclusion

We added Cultural Milestones - Following the Gallery of Trailblazers, participants can explore an additional list of cultural milestones to add representation in institutional history

We updated "Quiz" questions to focus more on reflection and engagement and less on "right answers".

We are using updated assessment questions to better evaluate the impact of TerrapinSTRONG on a sense of belonging.

Action Plans have been tailored to each unique group

In progress - development of new version of the 4th module Traditions & Belonging video for faculty & staff.
Priorities for 2022-2023
In order to meet the central priorities of TerrapinSTRONG, community, connection, & inclusion, the program must expand beyond its current scope, which consists of an introductory onboarding module and TerrapinSTRONG messaging and events within the college, school or division. These priorities are introduced and targeted in the existing programs but must be translated into engagement among members of the community.

Implement engagement opportunities for live interaction with action plan tasks and with each other.

Enhance visibility and communications, both of TerrapinSTRONG overall and of history, tradition, landmarks, etc. (especially social media)

Support every college, school, division in the development of TerrapinSTRONG onboarding for new faculty/staff and enhance 2021 onboarding initiatives for new students.

Develop a TerrapinSTRONG 2.0 to enhance learning around inclusion and inclusive practices.

Implement organized cycles for the annual review and enhancement of TerrapinSTRONG initiatives

Assessment Cycle

TerrapinSTRONG In Person Training Cycle

Course Update Cycle

Video Refresh Cycle