Report
BISS Annual Report 2022-23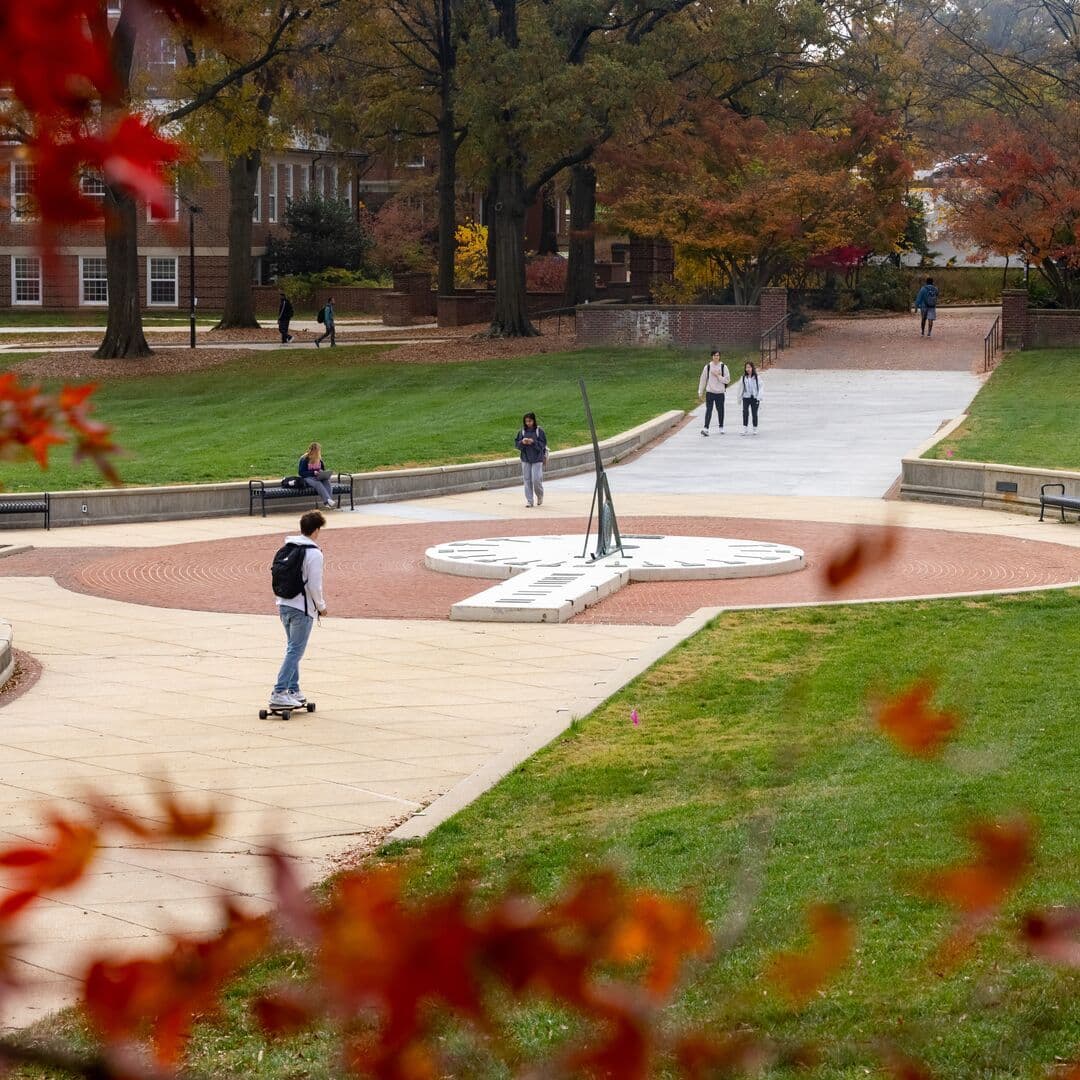 Introduction
The 2022-23 academic year was a story of transitions. Many have transitioned away from living as though we are in a pandemic while also being mindful that COVID-19 has now become an indelible reality for our world. The University of Maryland's Office of Diversity & Inclusion has also recruited many new staff members, transitioning the workload of training & development, affinity spaces, and support services to an ever-wider community of care. As Bias Incident Support Services (BISS) transitions from being a new unit on campus to an institutional cornerstone, we will continue to provide high quality service while advocating for meaningful change that honors the fullness and dignity of every UMD community member.
BISS Staffing
For the prior two years, Alex Franklin (he & they) served as an hourly graduate staff member within BISS. In August 2022, BISS was approved to hire a full graduate assistant to increase capacity. Joyce Jang (they/them), graduate student in the College of Education, Student Affairs, provided amazing assistance to the team. Joyce co-advised the Hate Bias Student Advisory Group and strengthened partnerships with the Office of Multicultural Involvement & Community Advocacy (MICA) and the LGBTQ+ Equity Center.
In August 2023, Brian Medina (ze/hir/hirs) was promoted to the BISS director role. Two program manager positions have been approved and will be recruited in the fall of 2023 to increase BISS's capacity. Baili Park (she/her), graduate student in the Higher Education, Student Affairs and International Education Policy (HESI) program, was added to the BISS team in August 2023 to co-advise the Hate Bias Student Advisory Group and further improve services for students at the University of Maryland.
Data and Trends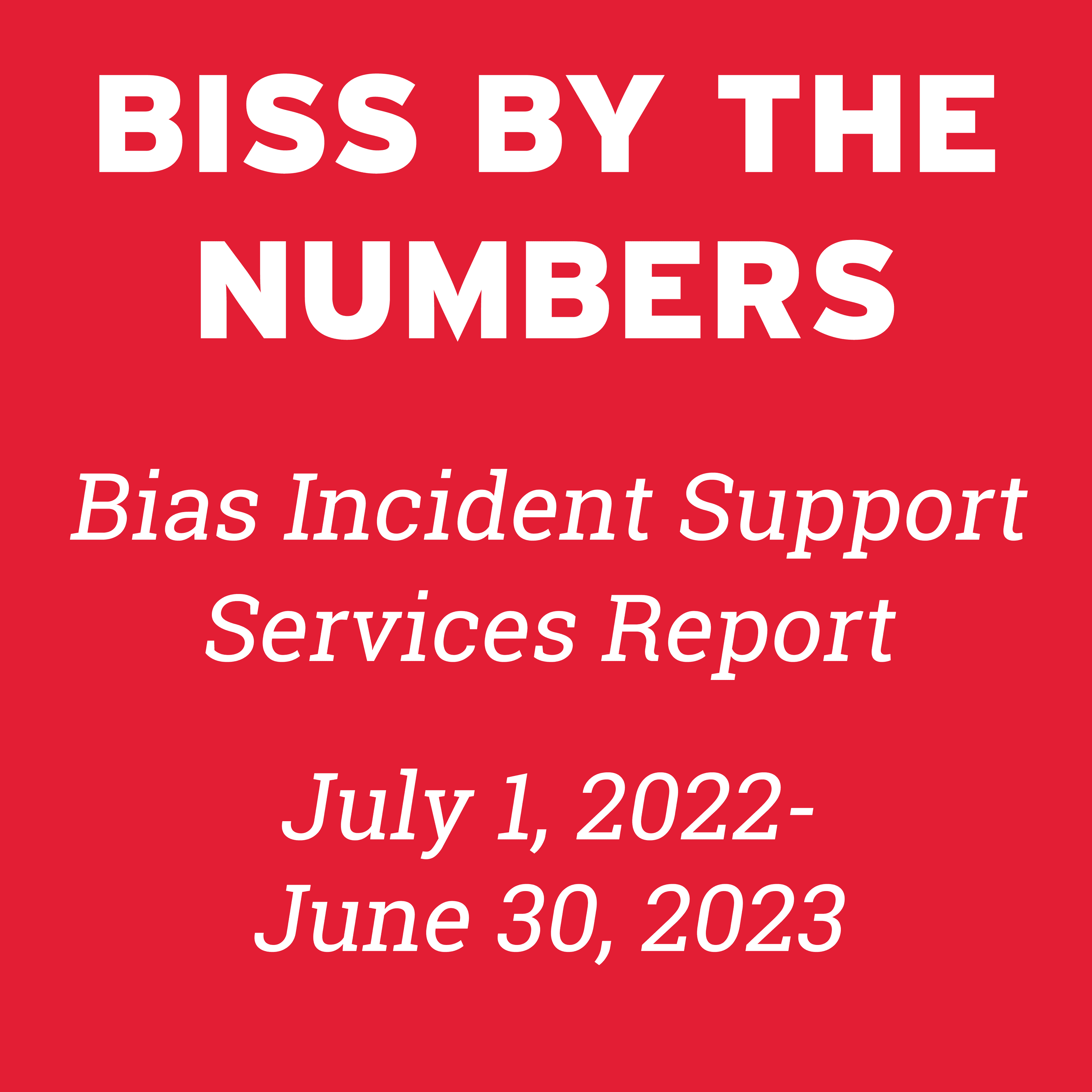 An annual "by the Numbers" summary report from Bias Incident Support Services
A notable trend has been reports of anti-Black racism throughout the year. Many of these situations occurred within residential spaces and online settings, making the impact both personal and amplified. Black UMD community members reporting bias incidents have voiced a range of emotions in response: anger, sadness, numbness, and most often, exhaustion. BISS continues to deepen relationships with the Nyumburu Cultural Center, Office of Multi-ethnic Student Education (OMSE), and Office of Multicultural Involvement and Community Advocacy (MICA) to unpack how Black-identified community members are uniquely impacted by pervasive racism here at the University of Maryland. These critical relationships build trust and solidarity in our common fight against white supremacy.

BISS also observed a decrease in reports related to antisemitism and anti-Jewish sentiment as compared to the 2021-22 academic year. Despite this positive trend, BISS continues to highlight the Spring 2022 Jewish Identities and Experiences panel series to uplift Jewish voices and address antisemitism collectively.

Finally, BISS received an increase in reports this year reflecting the erasure of trans individuals, with reports including intentional use of incorrect pronouns, statements of belief in only two fixed genders and social media posts espousing hatred. Trans folx at UMD have continued to experience an increase in harm at a time when many states similarly attempt to eradicate trans existence.
Collaborations and Partnerships
As a small campus unit, BISS recognizes the necessity of strong partnerships to advance the work of diversity, equity, inclusion, social justice and belonging. It takes a whole community to transform itself, even if units like BISS play an essential role with navigating complex harm and relationship repair.
BISS remains a core member of the Free Expression workgroup that trains UMD community members about the intricacies of the Use of Facilities and Outdoor Spaces Policy. This group also coordinates a rapid response team who serve as monitors and de-escalation specialists when a protest, rally or event becomes contentious.
Throughout the 2022-23 academic year, Brian Medina (ze/hir/hirs) represented the Office of Diversity & Inclusion on the University Strategic Planning implementation committee focused on the Investing in People and Communities pillar. This group endeavored to develop metrics and plan how the University of Maryland could meet goals related to embodying DEI principles, cultivating a robust community of care, and aligning evaluations, rewards, and incentives with overarching university goals.
BISS and MICA partnered with Hamsa (Jewish LGBTQIA+ student group) and ReBorn This Way (Christian LGBTQIA+ student group) to host an interfaith panel discussion to unpack the relationships between religious beliefs, queerness, and bias. This program attracted UMD community members across many different backgrounds and attendees expressed their gratitude for this opportunity to better understand themselves and others.
Over the past year, there have been many bias incidents in the residence halls that impacted a large number of residential students. BISS and the Department of Resident Life (DRL) maintain a strong partnership and call upon one another in providing compassionate care to those harmed by bias incidents. In June 2023, BISS and DRL met to enhance the protocol and resources provided to residents impacted by bias incidents and communicated these changes to DRL team members during their summer training.
Finally, BISS was invited to be part of a movement toward restorative and transformative change alongside Student Affairs leaders who wanted to re-envision the way that the Department of Fraternity & Sorority Life (DFSL) operates. In May and June of 2023, BISS held space for many DFSL team members to process their experiences, especially pertaining to navigating their identities, power and privilege within their positions. BISS compiled insights and advice for Student Affairs leadership to consider as a means to repair individual relationships and to prevent further harm.
Training and Programs
BISS continues to offer Stop the Hate anti-bias training, an introductory workshop to engage community members around bias incident scenarios and share university resources. Each semester, BISS facilitates six Stop the Hate trainings; two each for faculty, staff and students. Attendance at Stop the Hate training workshops ranges from a small handful of participants up to 35 per session.
BISS continues to train all resident assistants, resident directors, community directors, and new professional staff in the Department of Resident Life (DRL) regarding bias incident response. These workshops delve not only into potential scenarios, but also into the DRL protocols and expectations around mitigating identity-based harm. BISS also regularly advises DRL team members who wish to deepen their understanding of the impact experienced from bias incidents. In total, BISS trains over 300 Resident Life team members every year.
Throughout the academic year 2022-2023, BISS provided a handful of tailored trainings to various campus departments and student groups looking to address particular needs. Some topics include: restorative practices, addressing bias in student group recruitment, and using art therapy as a means to heal after trauma. In time, BISS endeavors to broaden its selection of training and development opportunities available to the UMD community as capacity allows.
Finally, BISS continues its monthly restorative space, The Circle, which is rooted in Indigenous methods of care and provides participants an opportunity to share how they feel while being supported by community members with similar identities, values or experiences. BISS held space for veterans, Ukrainian students, Black community members, and UMD students with disabilities. The Circle for disabled community members in late March 2023 drew more than 40 participants, a much larger group than the usual five to ten attendees. The following month, several graduate students with disabilities requested that BISS hold a dedicated space to navigate their unique barriers as a smaller group.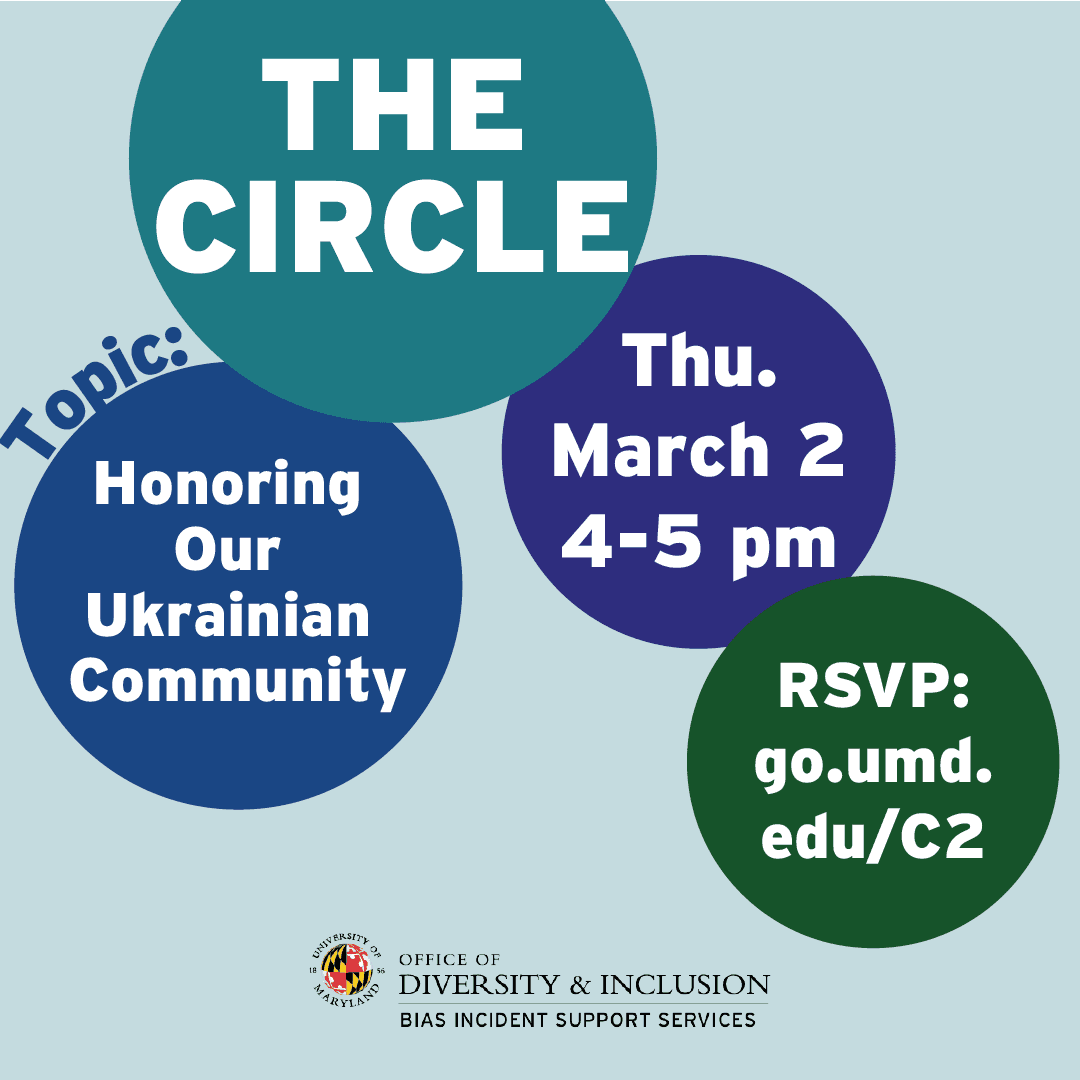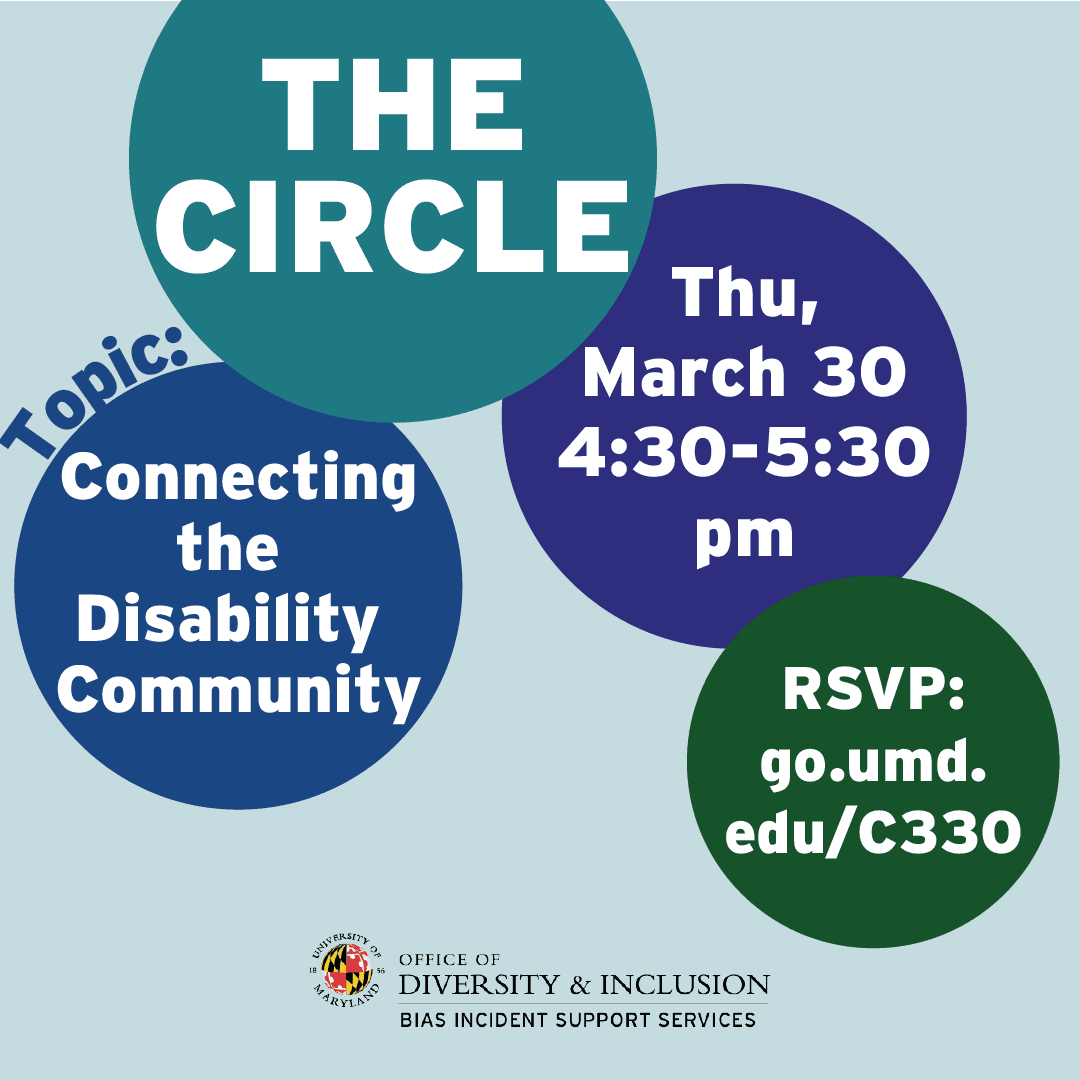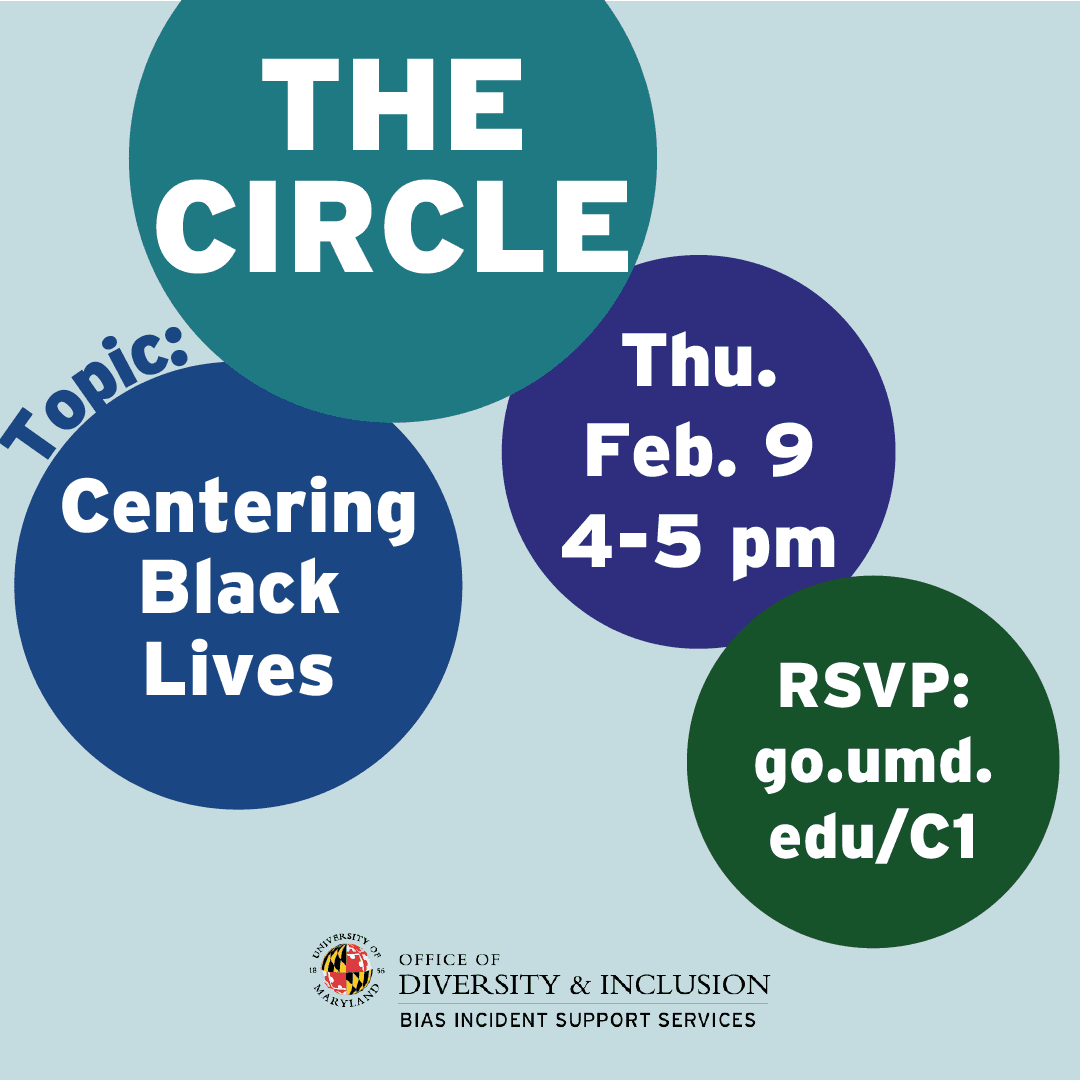 Engaging with Media
BISS continues to connect with student media outlets to provide insight into the ways that students experience identity-based harm. Below are a few articles highlighting these efforts:
The Diamondback:
Stories Beneath the Shell:
Next Steps
While transitions and systemic change may cause initial disruption, they are an essential element of organizational growth and success. Dr. Stephanie H. Chang (she/her/hers), new assistant vice president for diversity and inclusion, now convenes a group of ODI leaders to enhance collaboration between units and across the university related to diversity, equity, inclusion and social justice training and development. This intentional collaboration can enhance the ability for BISS to incorporate insights regarding identity-based harm into multiple units as a part of a greater community of care. In the 2023-24 academic year, an office move is planned that will transition the BISS team to a shared physical space in Marie Mount Hall; this will be an improvement to the current arrangement that sees BISS staff split between Marie Mount and Susquehanna. As BISS recruits and hires two new program managers, we will be able to expand our capacity and service to even more members of the UMD community. Despite the profound pain felt by so many due to hate and bias, BISS will continue to center those harmed with compassionate care.