Guide
Bias Incident Support Services brochure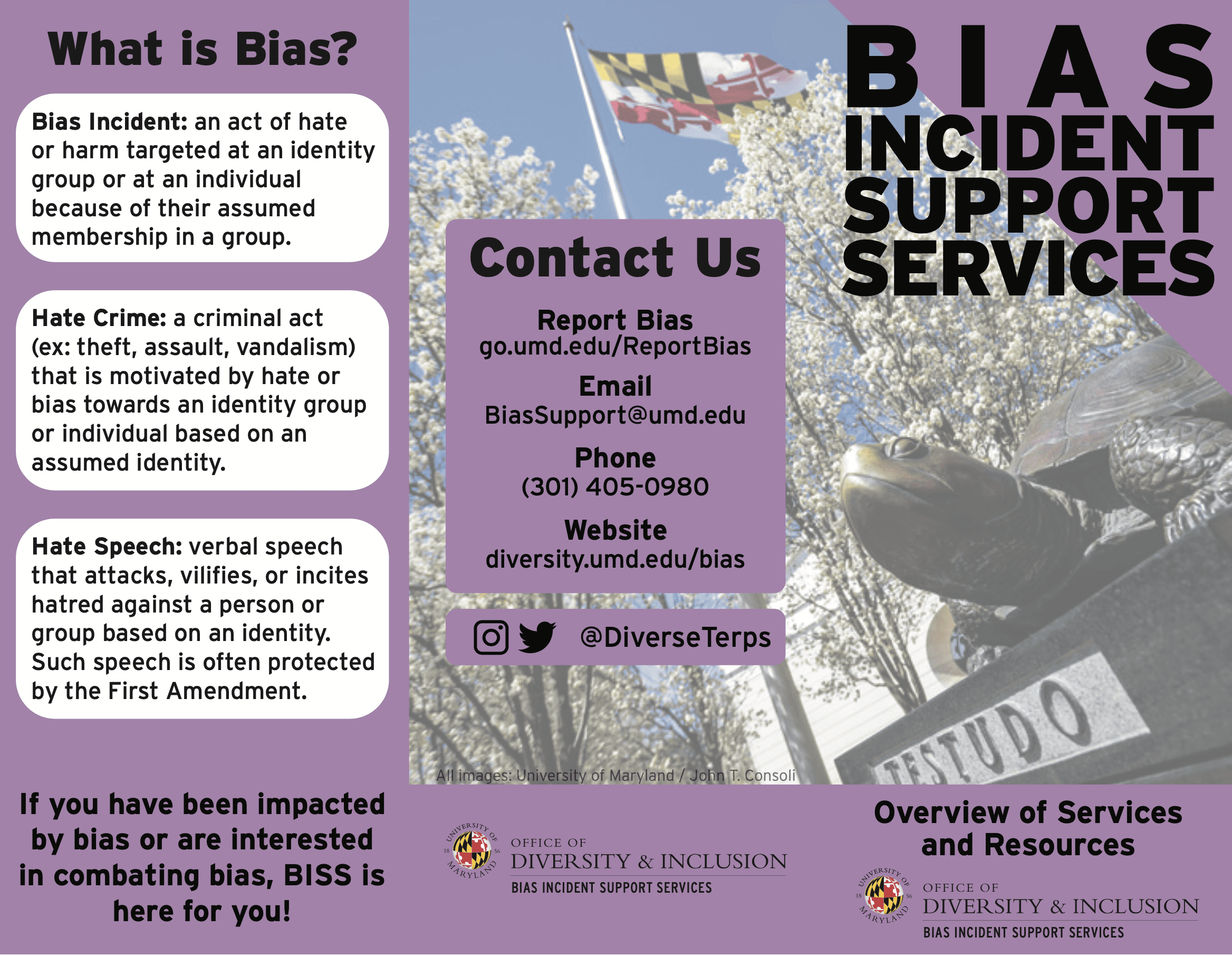 Resource Materials
What is bias?
Bias Incident: an act of hate or harm targeted at an identity group or at an individual because of their assumed membership in a group
Hate Crime: a criminal act (ex: theft, assault, vandalism) that is motivated by hate or bias towards an identity group or individual based on an assumed identity.
Hate Speech: verbal speech that attacks, vilifies, or incites hatred against a person or group based on an identity. Such speech is often protected by the First Amendment.
If you have been impacted by bias or are interested in combating bias, BISS is here for you!
Reporting
BISS is a reporting option on campus for all community members. Reports can be made anonymously or not. If the person impacted desires, BISS will reach out to offer support.
Bias Dashboard
The Bias Dashboard provides information on the bias reports made to BISS over time, by identity impacted and more. This data is used to analyze and assess campus needs.
Support
BISS offers support to those impacted by bias. If desired, BISS will reach out to offer space, resources, and additional support or reporting options to those who have been impacted. Support can be for individuals or communities.
Note: BISS is not a judicial or sanctioning body. BISS will not contact the alleged perpetrator or share any information about the reporter.
Hate-Bias Response Team
The HBRT consists of staff from across campus who meet to discuss bias incidents and trends.
Advocacy
BISS is an advocate for community members who have been impacted by bias. By analyzing trends in bias reports, BISS makes recommendations for improving campus.
Programming
BISS hosts many programs and events every year:
Stop the Hate trainings
The Circle (restorative spaces)
Free speech panels
And more!
Contact BISS
Report Bias
Email: BiasSupport@umd.edu
Phone: (301) 405-0980